DIY Perfume Workshop – The Fresh Notes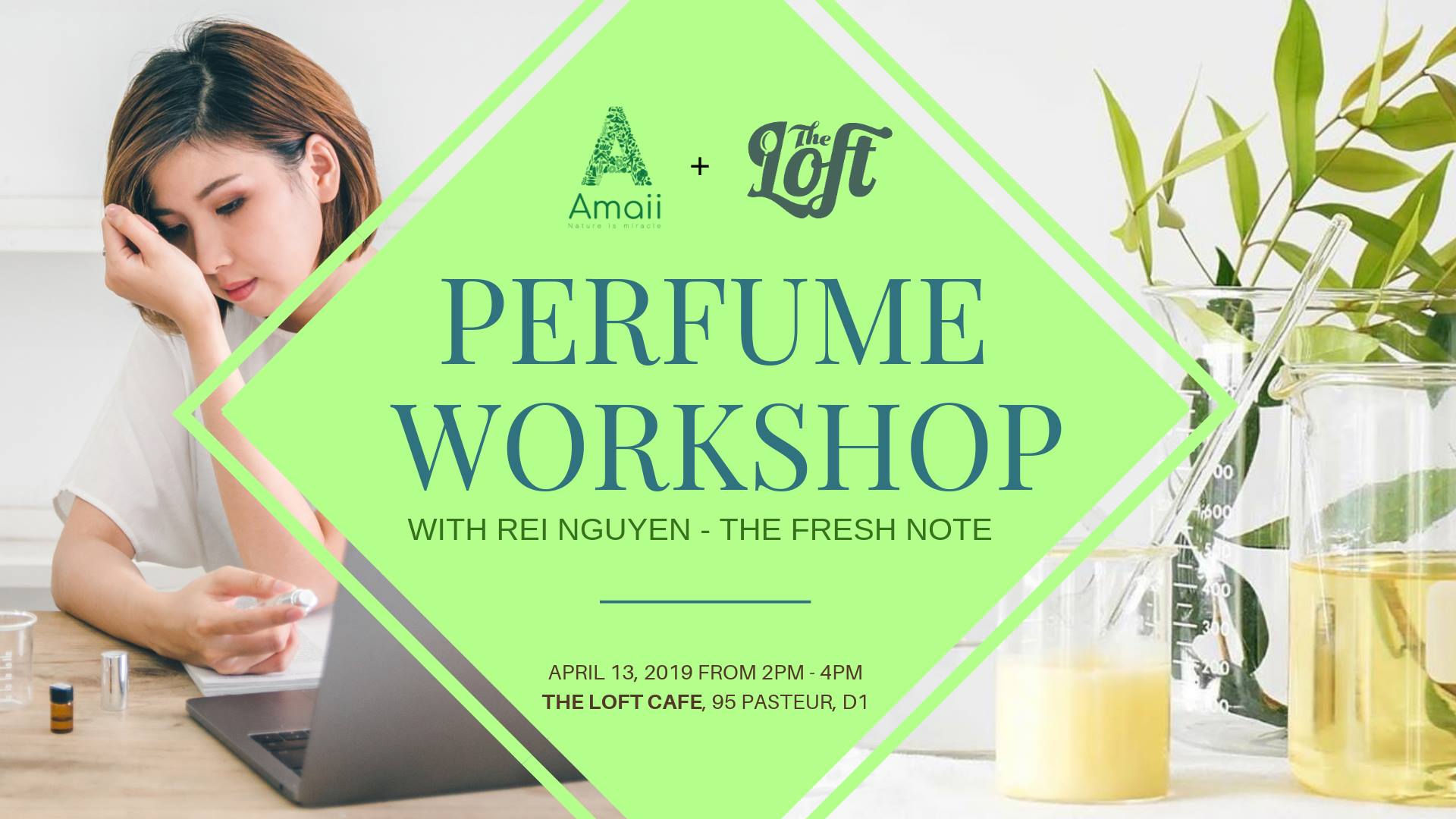 April 13, 2019
2:00 pm to 4:00 pm
The Loft Cafe - 2nd floor, 95 Pasteur, District 1
Event Description
More than sounds or colors, perfume is your invisible outfit that completes your style.
Instead of getting lost in the world of bombastic celebs' advertisements or expensive price tags, why don't you try creating your own bespoke perfume?
Let Rei Nguyen be your guide to your dream scent in the upcoming perfume workshop at a very romantic setting in the heart of our city – The Loft Saigon.
The theme of the workshop will be "The fresh notes". We will create our perfume featuring the fresh tone.
Main content
ABCs about perfumery, featuring The Fresh Group
Perfume Pyramid and how to decode it
A perfect guide to use perfume
Create your bespoke perfume. You can take away a 10ml bottle of Eau de parfum spray (travel size) after the workshop.
Registration
Venue: The Loft Cafe – 2nd floor, 95 Pasteur, District 1
Time: April 13, 2019 from 2pm – 4pm
Workshop fee: 800,000/pax (the cost covers venue, materials, lecturing and 1 drink at the Loft)
Register directly at Lofe Cafe 95 Pasteur or  our hotline: 038 708 4569 (Ms. San)
Mô tả chương trình
Hơn cả âm thanh hay màu sắc, mùi hương là lớp thời trang vô hình làm nên phong cách của bạn.
Cách đơn giản nhất để tìm thấy mùi hương phù hợp với bản thân mình, thay vì chìm đắm trong những quảng cáo celeb và choáng ngợp với những price tag hợp thời, bạn vẫn có thể tìm được làn hương cho mình bằng cách tự tạo ra nó.
Cùng Rei Nguyen trải nghiệm workshop điều chế nước hoa tại The Loft Saigon – một trong những không gian nên thơ tại thành phố.
Với chủ đề "The fresh notes", workshop lần 1 tại The Loft sẽ chú trọng các nốt hương tươi mát thuộc nhóm "fresh". Một làn hương tươi mát cho mùa nắng của Sài Gòn.
Nội dung workshop
Kiến thức cơ bản về nước hoa, nhóm fresh
Tháp mùi hương và ứng dụng
Cách sử dụng nước hoa
Tự điều chế nước hoa. Thành phẩm là lọ nước hoa Eau de parfum 10ml nhỏ xinh mang phong cách của bạn
Thông tin đăng ký
Địa điểm: The Loft Cafe – tầng 2, 95 Pasteur, Quận 1
Thời gian: 13/4/2019 từ 2pm – 4pm
Workshop fee: 800,000/pax (chi phí bao gồm địa điểm, nguyên liệu & dụng cụ, bài giảng và 1 phần nước tại The Loft)
Cách đăng ký: đăng ký trực tiếp tại Loft Cafe 95 Pasteur hoặc thông qua hotline: 038 708 4569 (Ms. San)
About Rei Nguyen
Rei Nguyen is a Vietnamese Perfume Artist. Apart from her love for scents, Rei is also passionate about sharing the fragrance knowledge to the community through her fragrance workshops across Japan and Vietnam.
Study Perfume Design and Aromatherapy in Japan
Delegate of Vietnam to join JENESYS 2016 (JENESYS is a program sponsored by the Japanese Government) theme Trade and Investment
Delegate of Vietnam to exhibit fragrance products in Japan – Vietnam Festival in Tohoku, Japan 2017
The host of scent workshops, seminars, exhibitions across Japan and Vietnam
Perfume writer at reinguyen.com
Về Rei Nguyễn
Rei Nguyễn là một nghệ sĩ mùi hương. Ngoài tình yêu đặc biệt dành cho mùi hương, Rei Nguyễn còn thực hiện các workshop và sự kiện nhằm lan toả tình yêu nghệ thuật khứu giác đến cộng đồng. Các workshop của cô hiện được tổ chức tại Việt Nam và Nhật Bản.
Theo học Perfume Design và Aromatherapy tại Tokyo, Nhật Bản
Đại biểu khởi nghiệp thanh viên Việt Nam tham dự JENESYS 2016 (Japan-East Asia Network of Exchange for Students and Youths), chương trình do JICE tài trợ, theme Trade and Investment.
Đại biểu Start-up mùi hương Việt Nam tham dự triển lãm sản phẩm tại Japan – Vietnam Festival 2017 tại Tohoku.
Hosts của loạt chuỗi các sự kiện, hội thảo chuyên đề mùi hương tổ chức tại Nhật Bản, Việt Nam.
Perfume Writer tại reinguyen.com